SpineMED Therapy for severe pain
Do you suffer from severe back pain due to disc problems?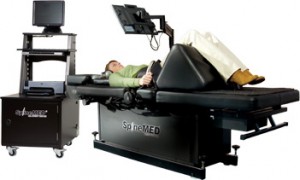 Lifeworks Chiropractic Center is the only facility in Maine to offer SpineMED Spinal Disc Decompression Therapy, a safe, non-surgical, FDA approved treatment for:
Low Back and Leg Pain
Neck and Arm Pain Numbness or Tingling
Bulging or Ruptured Disc
Herniated Disc
Sciatica and other Pinched Nerves which have resulted from disc Herniations
Degenerative Disc
Bulging/Slipped Discs
Spinal Stenosis
Facet Syndrome
At Lifeworks, SpineMED Therapy is part of an overall wellness plan designed to accelerate the healing of your bulging or herniated spinal discs. We have seen many people avoid spinal surgery and return to a better quality of life. Your initial consultation is free. We will review your MRI or x-ray with you, do an initial examination and help you decide if SpineMED therapy is right for you. Just call us at (207) 781-7911 for more information or to set up your consultation.
To learn more about this remarkable technology,
click here
.