Decompression Research and History
At Lifeworks Chiropractic Center we are proud to offer Spinal Decompression Therapy. In a recent study published in Orthopedic Technology Review Decompression Therapy was shown to be 86% effective in treating herniated and degenerative discs. Not only that, but another study published in Anesthesiology News showed that after 4 years over 91 % remained pain free. We have found that the treatment has been effective for our patients as well.

Here are some other studies that show just how effective decompression therapy is ...
In the Journal of Neurological Research VOL 20, NO 4, April 1998 the researchers stated: "We consider decompression therapy to be a primary treatment modality for low back pain associated with lumbar disc herniation at single or multiple levels, degenerative disc disease, facet arthropathy, and decreased spine mobility. Physiology (pain and mobility) and pathology correlate imprecisely. We believe that post-surgical patients with persistent pain or 'Failed Back Surgery Syndrome' should not be considered candidates for further surgery until a reasonable trial of decompression has been tried."
In the Journal of Neurological Research VOL 23, NO 7, October 2001 the researchers stated: "For any given patient with low back and referred leg pain, we cannot predict with certainty which cause has assumed primacy. Therefore surgery, by being directed at root decompression at the site of the herniation alone, may not be effective if secondary causes of pain have become predominant. Decompression therapy, however, addresses both primary and secondary causes of low back and referred leg pain. We thus submit that decompression therapy should be considered first, before the patient undergoes a surgical procedure which permanently alters the anatomy and function of the affected lumbar spine segment."
In that same Volume of the Journal of Neurological Research the Senior Lecturer in Orthopedics at Sydney University stated "Successful reduction of intradiscal pressures with decompression therapy represents a technological advance in lumbar spinal treatment and is likely to affect both the biomechanical and biochemical causes of discogenic pain.
The History of Spinal Decompression
Dr Alan Dyer, Md, PhD, the former Deputy Minister of Health in Ontario Canada pioneered Non-Surgical Spinal Decompression to resolve his own debiliating back pain resulting from a herniated disc. Dr. Dyer explored the effect of reversing the pressure and reposition the damaged discs to accelerate healing with tremendous success. After healing his own disc he introduced the first VAX-D system in 1991 after years of research. Today thousands of Spinal Decompression Systems operate around the globe treating tens of thousands os patients daily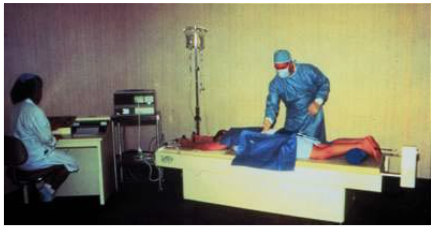 Dr Dyer and his team did extensive rearch into the field of decompression. The following are some of the research done on VAX-D:
An Overview of VAX-D Therapy.pdf
Effects of VAX-D on Intradiscal Pressure.pdf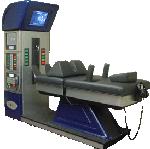 The second generation of spinal decompression medical equipment was a step up in that the patient was not encumbered by holding on with hands overhead. This next generation still used the rope and pully system and harness however the need to hold on was eliminated and there was a tower added to angle the pulley system an example of this second generation is the DRX9000. EmergingTechnologies.pdf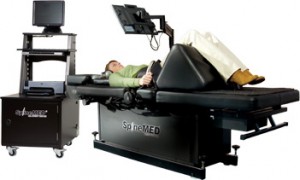 The third generation is distinct result of years of clinical experience, SpineMED® was engineered to overcome the limitations and side effects of previous decompression devices. Cumbersome nylon harnesses, antiquated traction components and outdated tower designs have been replaced with advanced controls designed to precisely target and decompress injured spinal segments with significantly lower distractive force.
Dr. Reuben Henderson, D.O. spoke on the subject of Disc Pathology and Treatment at the American Osteopathic College of Physical Medicine and Rehabilitation Mid Year Conference in Indianapolis, IN.
Additional Research:
Qingdao-China-Study-February-2013-1.pdf
Spinemed german research (1).pdf
Orthopedic Technology Review, Vol. 5-6, Nov-Dec 2003.pdf